Product Description
JIS 5K-40K carbon steel blind flange
For JIS standard flanges, there are many different standard No. for example, JIS B 2238.JIS B 2239 and so on. Besides these standards of forged flanges, we can manufacture others, like ASME flange, GOST flange, DIN flange etc. 5K-40K is about flange pressure.
For American National Standard flange, pressure can be described by CLASS.
For blind flanges, there are no holes in the middle of itself.
JIS 5K-10K blind flange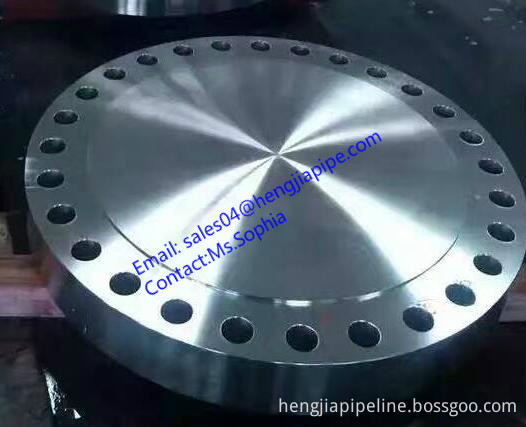 carbon steel RF blind flange
Product specifications
Product name
Blind flange
Standard
ANSI
ANSI B16.5, ASME B16.47 series A/B
DIN
Germany 6bar, 10bar, 16bar, 25bar, 40bar
GOST
GOST 12820/12821/12836
EN1092-1
EN1092-01/05/11/12/13
JIS
JIS B 2220-1984, KS B1503, JIS B 2216
BS4504
BS4504 BS10 Table D/E
Material
ANSI
CS A105, S235, Steel 20; SS 304/304L, 316/316L
DIN
CS RST37.2, S235JRG, P245GH, P250GH; SS 304/304L, 316/316L
GOST
CS Steel 20, 16MN, Q235
EN1092-1
CS RST37.2, S235JRG, C22.8
JIS
SS400, SS 304/304L, 316/316L
BS4504
CS RST37.2, S235JRG, C22.8; SS 304/304L, 316/316L
Pressure
ANSI
Class 150, 300, 600, 900, 1500, 2500lbs
DIN
PN6, PN10, PN16, PN25, PN40
GOST
PN6, PN10, PN16, PN25, PN40, PN63, PN100
EN1092-1
PN6, PN10, PN16, PN25, PN40, PN63, PN100
JIS
5K, 10K, 16K, 20K, 30K, 40K
BS4504
PN6, PN10, PN16, PN25, PN40
Size
ANSI
1/2" - 80"
DIN
DN15-DN2000
GOST
DN15-DN1600
EN1092-1
DN15-DN2000
JIS
15A-1500A