Product Description
The diameter of pipe elbows at both ends can be same or different, so there are equal elbows and reducing elbows as butt weld pipe fittings. Seamless pipe fittings elbows can increase the life length of pipeline. So they are more widely used than welded elbows. The ends of elbows can be bevel end. Due to different manufacturing process, there are hot rolled seamless pipe elbows and cold drawn steel pipe elbows. According to different projects requirements, elbows can be machined for different angles. Main materials include black pipe elbows, alloy steel elbows, stainless steel elbows, Aluminum elbow. The diameter for seamless elbows is from 1/2`` to 24``. Manufacture standard between butt weld fittings and high pressure forged fittings are not same. Usually, standard of bw fittings is ANSI B16.9, forged fittings` standard is ANSI B16.11. A234 WPB is a kind of material that is about carbon steel elbow.
Product show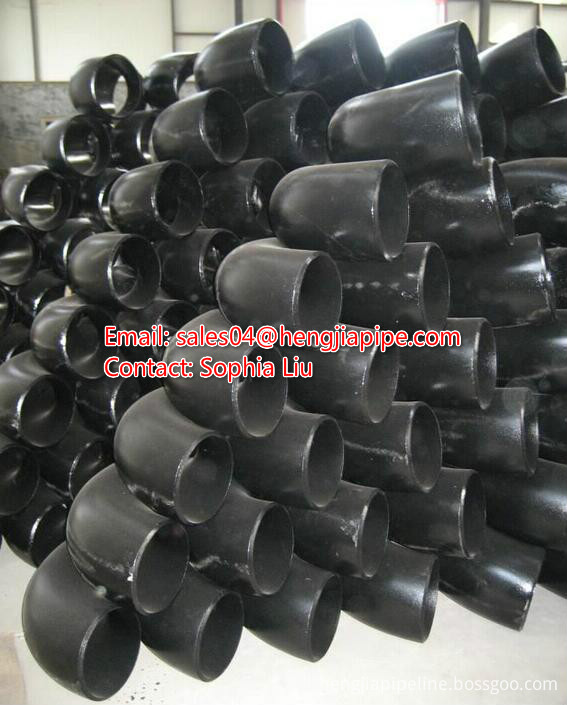 ANSI B16.9 steel pipe elbow
butt weld seamless and weld elbow
elbow with bevel end
Product show
SIZE: 1/2"--72" (OR AS PER CLIENTS` DRAWINGS)
WALL THICKNESS: SCH5-XXS
STANDARD: ASME/ANSI B16.9, B16.28,MSS SP-75, DIN2605 / 2615 / 2616, JIS P2311/2312
MATERIAL:
CARBON STEEL :ASTM/ASME SA/A234 WPB/C
LOW TEMPRETURE CARBON STEEL:ASTM/ASME SA/A420 WPL6
HIGH YIELD CARBON STEEL:ASTM/ASME SA/A860 WPHY42/WPHY52/WPHY60/WPHY65/WPHY70 ETC.
STAINLESS STEEL :ASTM/ASME SA/A403 WP304/WP304L/WP316/WP316L/WP321/WP321H ETC.
ALLOY STEEL :ASTM/ASME SA/A234 WP1/WP5/WP9/WP11/WP22/WP91 ETC.